Click on the PART NUMBER to add parts to the "Your Saved Parts" to request a quote.
 Disclaimer: Images may not always be accurate to the part #
When ordering awning parts

, it is important to

have the name of the awning manufacturer

and model

number ready

in order

for us to assist you.
The model

number can be found o

n a small plate on

the roller; simply unroll your awning completely to locate it.

 
Once we have the necessary information, we can provide you with whatever you need to restore your awning to working order.

Some awning accessories are

universal but most components

are make and model-specific.
We do not carry awning fabrics or complete awnings.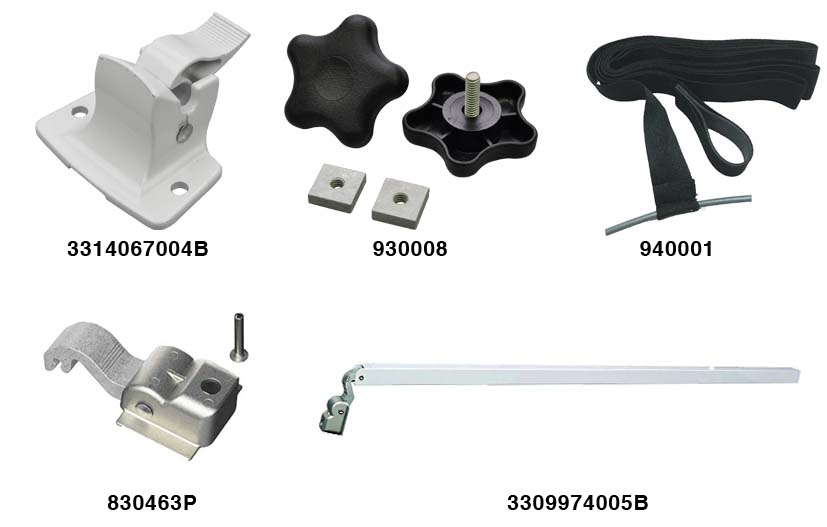 | | |
| --- | --- |
| PART NUMBER | DESCRIPTION |
| 3314067004B | White Bottom Bracket Assembly For Dometic Awnings |
| 3314067004U | Black Bottom Bracket Assembly For Dometic Awnings |
| 3314069000B | White Lift Handle Kit For Dometic Awnings |
| 3310811.009M | Die-Cast Metallic Foot For Dometic Awnings |
| 830472P002 | Slider Catch Assembly For Dometic Awnings |
| 830463P | Slider Assembly For Dometic Awnings |
| 930008 | Adjustment Knobs For Dometic Awnings |
| 940001 | Pull Strap For Dometic Awnings |
| 830152102 | 46" Pull Rod For Dometic Awnings |
| 3309974005B | Secondary Rafter Arm, 32″L, Polar White |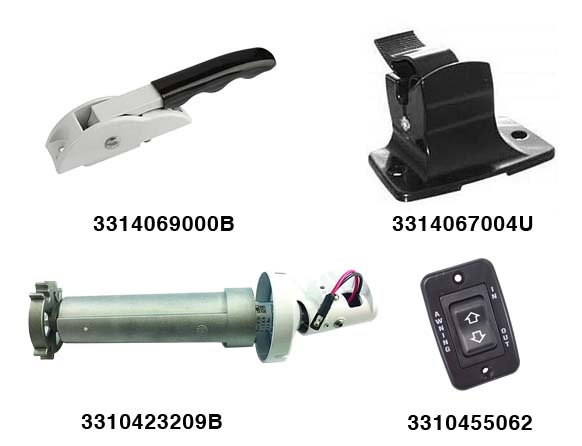 Dometic Awning Parts & Accessories
| | |
| --- | --- |
| PART NUMBER | DESCRIPTION |
| 830644 | Lift Handle Kit, Metallic Silver |
| 3314069000B | Lift Hand Kit, White |
| 3314067004B | Bottom Bracket Kit, Polar White |
| 3314067004U | Bottom Bracket Kit, Black |
| 3310811.009M | Awning slider catch with Springs |
| 830463P | Awning Arm Slider |
| 930008 | Travel Knobs (Pack of 2) |
| 940001 | Awning Pull Strap |
| 3309974005B | Secondary Rafter Arm Kit, 32"Length, Polar White |
| 3309974008B | Secondary Rafter Arm Kit, 44" Length, Polar White |
| 3105278126 | Travel Latch Sunchaser (1-PC) |
| 3310423209B | Power Awning Drive Assembly, Polar White |
| 3310423209U | Power Awning Drive Assembly, Black |
| 3108399035B | Awning Torsion Assy, Fits Dometic/A&E 8500, 9000 Series |
| 3310455062 | Control  Switch for 9100 Power Awning |
| 830152102 | 46" Gray Awning Pull Rod |
Carefree Parts & Accessories
| | |
| --- | --- |
| PART NUMBER | DESCRIPTION |
| 00-5015 | Lift Handle for Spirit, Fiesta & Pioneer Awnings, Black |
| 00-5017 | Lift Handle for Spirit, Fiesta & Pioneer Awnings, White |
| 00-4002 | Auto Awning Support, White |
| 00-4000 | Auto Awning Support, Black |
| 00-5056 | Remote Lock Replacement kit, Spirit/Fiesta Universal Hardware, White |
| 00-5055 | Remote Lock Replacement kit, Spirit/Fiesta, Universal Hardware, Black |
| 00-5011 | Pull Strap for Roll-up Travel Awnings |
| 00-5119 | Awning Arm Safety Straps |
| CFTAJVAP | Compass Awning Arms, Black |
| M-R00731 | Spring Assy, Left Hand Side, Replacement for Slide Out Cover II Awning |
| 00-4400 | Rafter Sliders for Spirit/Fiesta, 1997 & Newer Models |
| 00-4410 | Rafter Sliders for Spirit/Fiesta, Pre 1997 Models |
| 00-5019 | Storage Locks for Spirit/Fiesta, Black |
| 00-5021 | Storage Locks for Spirit/Fiesta, White |
| R001657 | Flipper Latch Kit, Orange |
| 00-5032 | Brace Knob with Clamp, Spirit/Fiesta/Pioneer/Simplicity Awnings, Pair |
| 00-5010 | Locking Knobs for Carefree Rafters, Pair |
| 00-5031 | Locking Knobs for Carefree Roll-up Awnings, Fits '96 Models and older, Pair |
| 00-5022 | Top Bracket for Spirit/Fiesta & Pioneer Awnings, Black |
| 00-5024 | Top Bracket for Spirit/Fiesta & Pioneer Awnings, White |
| 00-5025 | Bottom Bracket for Spirit/Fiesta & Pioneer Awnings, Black |
| 00-5027 | Bottom Bracket for Spirit/Fiesta & Pioneer Awnings, White |
| 00-5028 | Carport Foot, for Spirit/Fiesta & Pioneer Awnings, Black |
| 00-5030 | Carport Foot, for Spirit/Fiesta & Pioneer Awnings, White |
| M-R001326BLK | Travel'R 12v Wall Mount Awning Motor, Black |
| M-R001326WHT | Travel'R 12v Wall Mount Awning Motor, White |
| M-R001328BLK | Travel'R Awning Motor cover, Black |
| M-R001328WHT | Travel'R Awning Motor cover, White |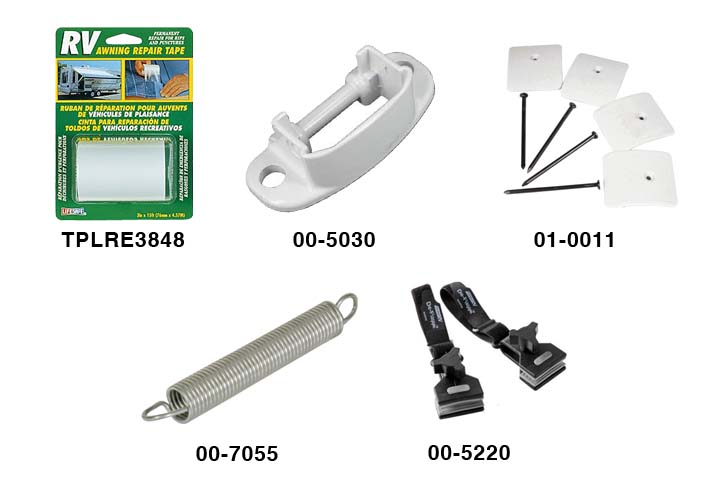 Non Manufacturer-Specific Accessories
| | |
| --- | --- |
| PART NUMBER | DESCRIPTION |
| 00-7003 | Awning Tie Down, Fits Up 20 25' Awnings |
| TPLRE3848 | AwningRepair Tape, 3"X15' Roll |
| C42005 | Permanent Awning Roller |
| 00-5030 | Carport Foot With Rivets, White |
| 00-5119 | Safety Arm Straps |
| 01-0011 | Carpet Anchors, Pack Of 4, White |
| 00-7055 | 7" Awning Spring |
| 00-5220 | AwningDeflappers, Universal Fit, Set Of 2 |
| 00-5120 | AwningSaver Clamps, White |
| A30-0625VP | Mini LED Rope, 16'Lx 1/4″ Dia., 12v 4w Power Adapter, 9′ Lead Wire |