Select Side Rolling Tarpaulins for Grain Bodies

Interchangeable with the "Electra"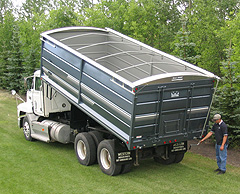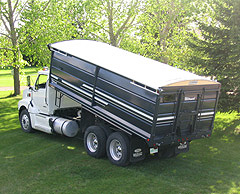 Also Available: Electra Grain Tarp, Spud Cover, Flip Tarp System, Maximizer, and the Gravel Guard System.
We can also supply replacement tarps and parts!
Call our office at 1-888-645-6998 toll free within Canada, or 1-780-645-6998 outside of Canada for more information.
Standard Specifications
Custom manufactured to fit specific width and length of truck box
End Caps
14 Gauge Aluminum
Rear end cap is removable
Rear end cap is designed to allow easy clean out of box
1 1/2″ wind deflector on front hood/end cap
Cross Members/Hoops
1″ galvanized pipe bent to shape
Removable to accommodate water tanks, bales, etc.
Tension Control
Applied to front and rear of tarp
Extensions springs along with beveled pulleys maintain a constant and uniform pressure to keep tarp from rolling evenly
2 inch specially designed aluminum locking flange for roll tube to lock under
Set screws on bevelled pulleys allow for easy cable adjustment
Tarp Material
19 oz. Canadian made P.V.C
Reinforced edges on front, rear and sides
Heat welded seams
13 tarp colors to choose from
Center stiffner rod sewn into the tarp
Locking System
Splined universal joint for quick and easy tension adjustment
Locking the roll tube metal to metal allows more pressure to be applied on the crank to keep the tarp tight, thus reducing tarp material wear
Choice of standard or reverse roll (reverse roll locks closed on passenger side)
Options
Bar sealed cross member reinforcements
14 gauge steel endcaps primed and painted
Click on the PART NUMBER to add parts to the "Your Saved Parts" to request a quote.
 Disclaimer: Images may not always be accurate to the part #
| | |
| --- | --- |
| PART NUMBER | DESCRIPTION |
| 0001-020007 | Bevelled Cable Pulley-Front Reverse |
| 0001-020006 | Bevelled Cable Pulley-Front |