Trailer wheels & tires are specifically engineered and designed for use on trailers only.  Trailer tires are designated "ST", which is stamped on the tire as part of the tire description.  The "ST" designation relates primarily to the stiffer sidewall construction, allowing the tire to carry more weight than a similar size automotive or "P" designated passenger car tire.
The "ST" tires must meet or exceed the carrying capacity of the axle that it is used on. The main consideration when buying trailer tires is to make sure that they meet the minimum weight carrying capacity. Trailer wheels are also specifically designed to be used only on trailers; they have specific weight carrying capacities, pilot diameters, and wheel offset dimensions.  Most but not all trailer wheels are "O" offset.  This means that the center of the rim is also the center of the tire. Trailer rims are not compatible in any way with automotive applications.
Click the button above to download our template
Click on the PART NUMBER to add parts to the "Your Saved Parts" to request a quote.
 Disclaimer: Images may not always be accurate to the part #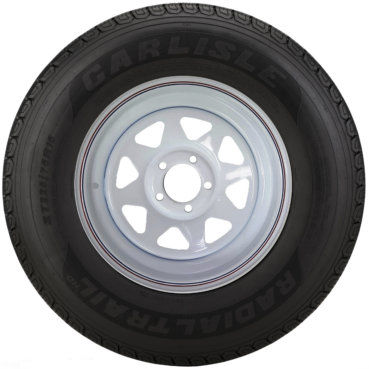 8″ & 10″
| | | | | | | |
| --- | --- | --- | --- | --- | --- | --- |
| PART NUMBER | DESCRIPTION | RIM TYPE | TIRE DESCRIPTION | BOLT PATTERN | PILOT DIA. | CAPACITY |
| RDG3727-W4 | Mounted Tire & Rim | Plain White | 20 ½" X 8" X 10" Bias | 4 on 4" | 2.81″ | 1,100lbs |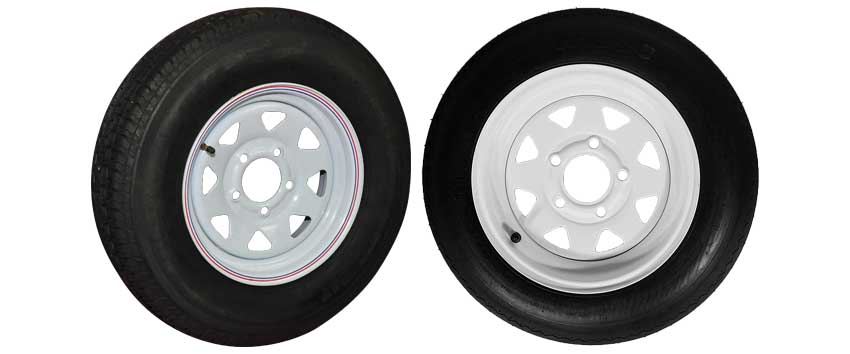 12″ & 13″
| | | | | | | |
| --- | --- | --- | --- | --- | --- | --- |
| PART NUMBER | DESCRIPTION | RIM TYPE | TIRE DESCRIPTION | BOLT PATTERN | PILOT DIA. | CAPACITY |
| RDG3728-WS4 | Mounted Tire & Rim | White Spoke | 4.80" X 12" Bias | 4 on 4″ | 2.56″ | 865lbs |
| RDG3728-WS5 | Mounted Tire & Rim | White Spoke | 4.80" X 12" Bias | 5 on 4 ½" | 3.19″ | 865lbs |
| RDG3728-SGA5 | Mounted Tire & Rim | Galvanized Spoke | 4.80" X 12" Bias | 5 on 4 ½" | 3.19″ | 865lbs |
| RDG3730-WS4 | Mounted Tire & Rim | White Spoke | 5.30" X 12" Bias | 4 On 4" | 2.56″ | 1,045lbs |
| RDG3730-WS5 | Mounted Tire & Rim | White Spoke | 5.30" X 12" Bias | 5 on 4 ½" | 3.19″ | 1,045lbs |
| RDG3730-SGA5 | Mounted Tire & Rim | Galvanized Spoke | 5.30" X 12" Bias | 5 On 4 ½" | 3.19″ | 1,045lbs |
| RDG25-700-SGA5 | Mounted Tire & Rim | Galvanized | ST175/80R13 Radial | 5 On 4 ½" | 3.19″ | 1,360lbs |
| RDG25-700-WS5 | Mounted Tire & Rim | White Spoke | ST175/80R13 Radial | 5 On 4 ½" | 3.19″ | 1,360lbs |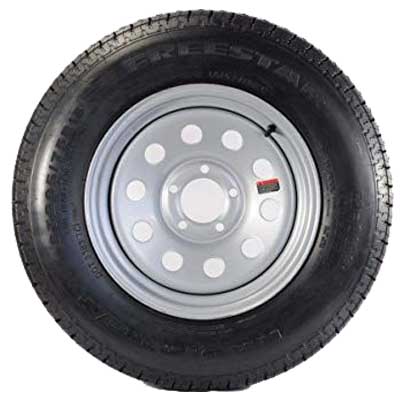 14″ & 15″
| | | | | | | |
| --- | --- | --- | --- | --- | --- | --- |
| PART NUMBER | DESCRIPTION | RIM TYPE | TIRE DESCRIPTION | BOLT PATTERN | PILOT DIA. | CAPACITY |
| RDG25-701-WM5 | Mounted Tire & Rim | White Modular | ST205/75R14 Radial | 5 on 4½" | 3.19″ | 1,760lbs |
| RDG25-701-WS5 | Mounted Tire & Rim | White Spoke | ST205/75R14 Radial | 5 on 4 ½" | 3.19″ | 1,760lbs |
| RDG25-701-SGA5 | Mounted Tire & Rim | Galvanized Spoke | ST205/75R14 Radial | 5 on 4 ½" | 3.19″ | 1,760lbs |
| RDG25-702-WS5 | Mounted Tire & Rim | White Spoke | ST205/75R15 Radial | 5 on 4 ½" | 3.19″ | 1,820lbs |
| RDG25-702-WS6 | Mounted Tire & Rim | White Spoke | ST205/75R15 Radial | 5 On 4 ½" | 4.28″ | 1,820lbs |
| RDG25-702-06 | Mounted Tire & Rim | Aluminum (Series 6) | ST205/75R15 Radial | 5 On 4 ½" | 3.19″ | 1,820lbs |
| RDG25-702-SGA5 | Mounted Tire & Rim | Galvanized Spoke | ST205/75R15 Radial | 5 On 4 ½" | 3.19″ | 1,820lbs |
| RDG25-702-729 | Mounted Tire & Rim | Aluminum | ST205/75R15 Radial | 5 On 4 ½" | 3.19″ | 1,820lbs |
| RDG25-702-AL5 | Mounted Tire & Rim | Aluminum Modular | ST205/75R15 Radial | 5 On 4 ½" | 3.19″ | 1,820lbs |
| RDG25-703-WS5 | Mounted Tire & Rim | White Spoke | ST225/75R15 Radial | 5 On 4 ½" | 3.19″ | 2,540lbs |
| RDG25-703-SGA5 | Mounted Tire & Rim | Galvanized Spoke | ST225/75R15 Radial | 5 On 4 ½" | 3.19″ | 2,540lbs |
| RDG25-703-WS6 | Mounted Tire & Rim | White Spoke | ST225/75R15 Radial | 6 On 5 ½" | 4.28″ | 2,540lbs |
| RDG25-703-SGA6 | Mounted Tire & Rim | Galvanized Spoke | ST225/75R15 Radial | 6 On 5 ½" | 4.28″ | 2,540lbs |
| RDG25-703-AL6 | Mounted Tire & Rim | Aluminum Modular | ST225/75R15 Radial | 6 On 5 ½" | 4.25″ | 2,540lbs |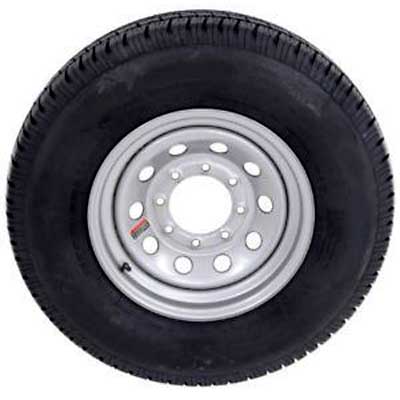 16″
| | | | | | | |
| --- | --- | --- | --- | --- | --- | --- |
| PART NUMBER | DESCRIPTION | RIM TYPE | TIRE DESCRIPTION | BOLT PATTERN | PILOT DIA. | CAPACITY |
| RDG25-705-WS6 | Mounted Tire & Rim | White Spoke | ST235/80R16 Radial | 6 On 5 ½" | 4.28″ | 3,525lbs |
| RDG25-705-RD8 | Mounted Tire & Rim | Grey Dually | ST235/80R16 Radial | 8 On 6 ½" | 4.75″ | 3,525lbs |
| RDG25-705-RDGA8 | Mounted Tire & Rim | Galvanized Dually | ST235/80R16 Radial | 8 On 6 ½" | 4.75″ | 3,525lbs |
| RDG25-705-WM8 | Mounted Tire & Rim | White Modular | ST235/80R16 Radial | 8 On 6 ½" | 4.75″ | 3,525lbs |
| RDG25-705-WS8 | Mounted Tire & Rim | White Spoke | ST255/80R16 Radial | 8 On 6 ½" | 4.90″ | 3,525lbs |
| RDG25-705-SGA8 | Mounted Tire & Rim | Galvanized Spoke | ST235/80R16 Radial | 8 On 6 ½" | 4.90″ | 3,525lbs |
| RDG25-705-AL8 | Mounted Tire & Rim | Aluminum Modular | ST235/80R16 Radial | 8 On 6 ½" | 5.15″ | 3,525lbs |
| RDG25-706-WS8 | Mounted Tire & Rim | White Spoke | ST235/85R16 Radial | 8 On 6 ½" | 4.90″ | 3,900lbs |
| RDG25-706-SGA8 | Mounted Tire & Rim | Galvanized | ST235/85R16 Radial | 8 On 6 ½" | 4.90″ | 3,900lbs |
| RDG25-706-WM8 | Mounted Tire & Rim | White Modular | ST235/85R16 Radial | 8 On 6 ½" | 4.90″ | 3,900lbs |
| RDG25-706-WS6 | Mounted Tire & Rim | White Spoke | ST235/85R16 Radial | 6 On 5 ½" | 4.28″ | 3,900lbs |
| RDG25-706-RD8 | Mounted Tire & Rim | Grey Dually | ST235/85R16 Radial | 8 On 6 ½" | 4.75″ | 3,900lbs |
*FOR INQUIRIES REGARDING 17.5″ TRAILER WHEELS & TIRES, PLEASE CONTACT US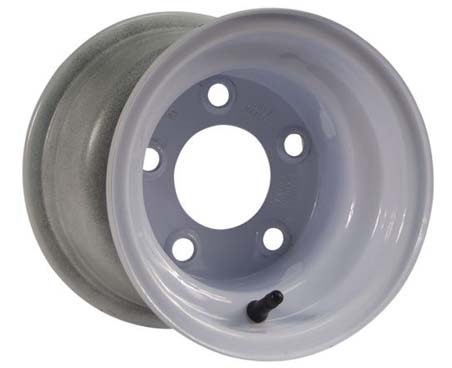 8″ & 10″
| | | | | | |
| --- | --- | --- | --- | --- | --- |
| PART NUMBER | DESCRIPTION | DIAMETER & WIDTH | BOLT PATTERN | PILOT DIA. | CAPACITY |
| RT3710 | Trailer Rim, Plain White | 8" X 3 ¾" | 4 on 4″ | 2.65″ | 900lbs |
| RT3712 | Trailer Rim, Plain White | 8" X 3 ¾" | 5 On 4 ½" | 2.81″ | 900lbs |
| RT3713 | Trailer Rim, Plain White | 10" X 6″ | 4 on 4″ | 2.81″ | 1,535lbs |
| RT3717 | Trailer Rim, Plain White | 10" X 6″ | 5 On 4 ½" | 2.81″ | 1,535lbs |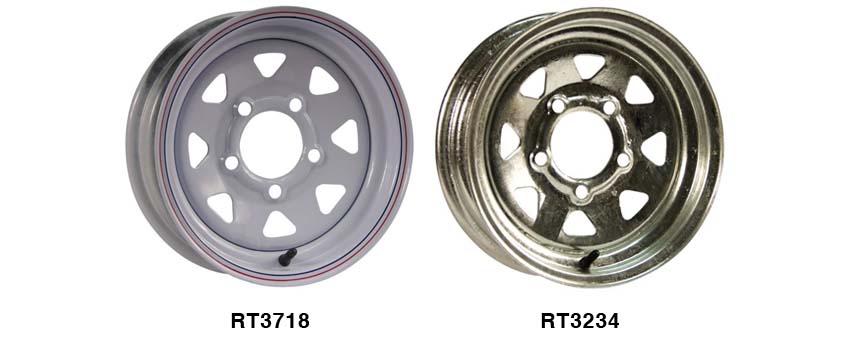 12″ & 13″
| | | | | | |
| --- | --- | --- | --- | --- | --- |
| PART NUMBER | DESCRIPTION | DIAMETER & WIDTH | BOLT PATTERN | PILOT DIA. | CAPACITY |
| RT3718 | Trailer Rim, White Spoke | 12" X 4" | 4 on 4″ | 2.56″ | 1,045lbs |
| RT3720 | Trailer Rim, White Spoke | 12" X 4" | 5 On 4 ½" | 3.19″ | 1,045lbs |
| RT3234 | Trailer Rim, Galvanized | 13" X 4 ½" | 5 On 4 ½" | 3.19″ | 1,660lbs |
| RT3721 | Trailer Rim, White Spoke | 13" X 4 ½" | 4 on 4″ | 2.91″ | 1,669lbs |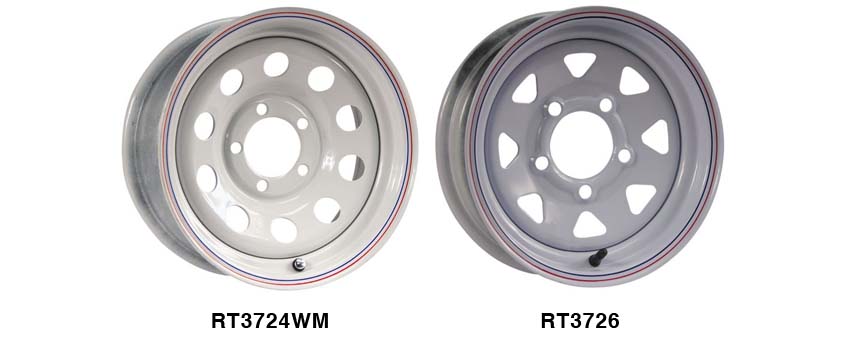 14″ & 15″
| | | | | | |
| --- | --- | --- | --- | --- | --- |
| PART NUMBER | DESCRIPTION | DIAMETER & WIDTH | BOLT PATTERN | PILOT DIA. | CAPACITY |
| RT3724WM | Trailer Rim, White Modular | 14" X 6" | 5 On 4 ½" | 3.19″ | 1,870lbs |
| RT3726 | Trailer Rim, White Spoke | 15" X 6" | 5 On 4 ½" | 3.19″ | 2,150lbs |
| RT3728 | Trailer Rim, White Spoke | 15 X 6" | 6 On 5 ½" | 4.27″ | 2,600lbs |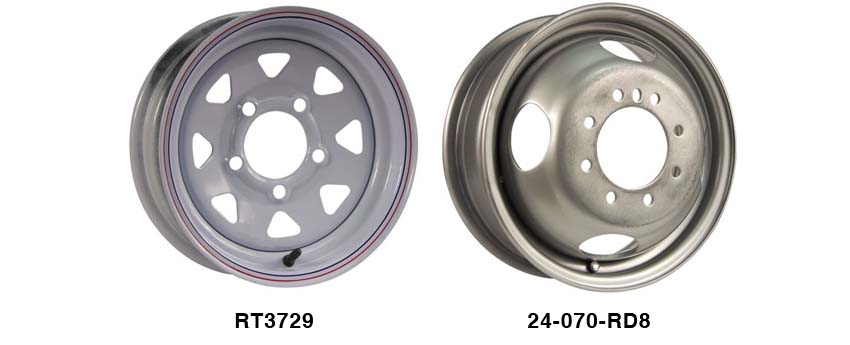 16″
| | | | | | |
| --- | --- | --- | --- | --- | --- |
| PART NUMBER | DESCRIPTION | DIAMETER & WIDTH | BOLT PATTERN | PILOT DIA. | CAPACITY |
| RT3729 | Trailer Rim, White Spoke | 16" X 6" | 6 On 5 ½" | 4.27″ | 3,200lbs |
| 24-760-WS8 | Trailer Rim, White Spoke | 16" X 6" | 8 On 6 ½" | 4.90″ | 2,600lbs |
| RT3730 | Trailer Rim, White Modular | 16″ X 6" | 8 On 6 ½" | 4.75″ | 3,750lbs |
| 24-070-RD8 | Trailer Rim, Dually, Silver, 5 ½" Offset Out | 16″ X 6" | 8 On 6 ½" | 4.75″ | 3,200lbs |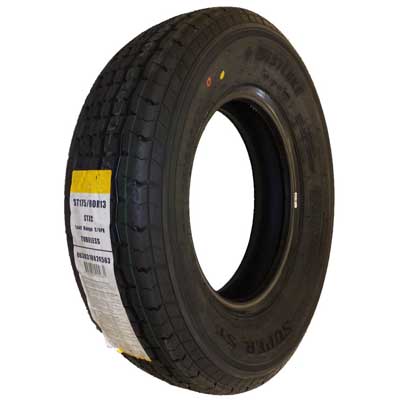 Radial Tires
| | | | | |
| --- | --- | --- | --- | --- |
| PART NUMBER | DESCRIPTION | TIRE TYPE | LOAD RANGE | CAPACITY |
| RDG25-700 | Trailer Tire | ST175/80R13 Radial | "C" | 1360Lbs |
| RDG25-701 | Trailer Tire | ST205/75R14 Radial | "C" | 1760Lbs |
| RDG25-702 | Trailer Tire | ST205/75R15 Radial | "C" | 1820Lbs |
| RDG25-703 | Trailer Tire | ST225/75R15 Radial | "C" | 2540Lbs |
| RDG25-705 | Trailer Tire | ST235/80R16Radial | "E" | 3525Lbs |
| RDG25-706 | Trailer Tire | ST235/85R16 Radial | "G" | 3900Lbs |

Bias Tires
| | | | | |
| --- | --- | --- | --- | --- |
| PART NUMBER | DESCRIPTION | TIRE TYPE | LOAD RANGE | CAPACITY |
| RDG3720 | Trailer Tire | 4.80" X 8" Bias | "C" | 745Lbs |
| RDG3722 | Trailer Tire | 5.70" X 8" Bias | "C" | 910Lbs |
| RDG3726 | Trailer Tire | 18 ½" X 8 ½" X 8" Bias | "C" | 935Lbs |
| RDG3727 | Trailer Tire | 20 ½" X 8" X 10" Bias | "C" | 1,100Lbs |
| RDG3728 | Trailer Tire | 4.80" X 12" Bias | "C" | 865Lbs |
| RDG3730 | Trailer Tire | 5.30" X 12" Bias | "C" | 1,045Lbs |
| RDG3732 | Trailer Tire | ST175/80D13 Bias | "C" | 1,350lbs |
| RDG3734 | Trailer Tire | ST175/80D14 Bias | "C" | 1,760lbs |
| RDG3736 | Trailer Tire | ST205/75D15 Bias | "C" | 1,820lbs |
| RDG3737 | Trailer Tire | ST225/75D15 Bias | "D" | 2,450lbs |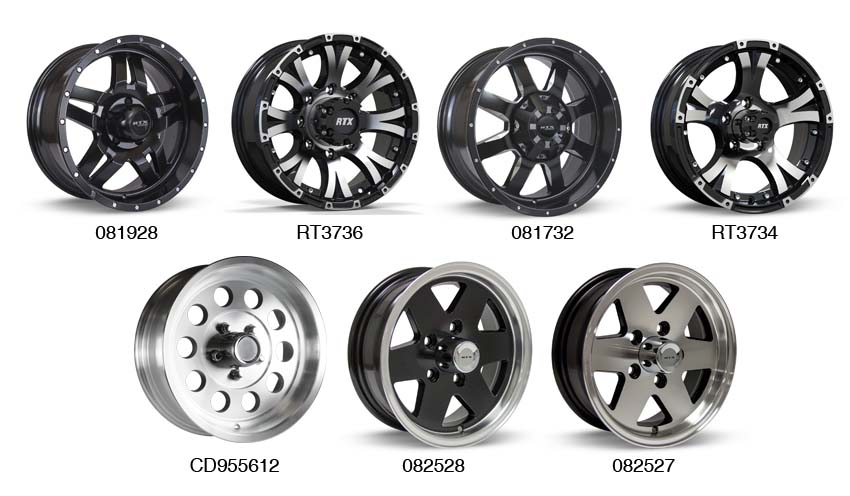 Aluminum Rims
PART NUMBER

SIZE
DESCRIPTION
BOLT PATTERN

CAPACITY

MESA / RTX

081928

15″ x 6″

Mesa 15×6 5-4.5 OP 3.19 Satin Black

5 on 4.5

2150lbs

081989

15″ x 6″

RTX 081989, Black Machined

5 on 4.5

2750lbs

RIDGELINE / RTX

081732

15″ x 6″

RTX 15×6 5-4.5 OP 3.19 Satin Black Milled

5 on 4.5

2150lbs

081733

15″ x 6″

Ridgeline 15×6 6-5.5 OP 4.25 Satin Black

6 on 5.5

2830Lbs

081745

15 x 6″

RTX 16×7 6-5.5 OP 4.25 Satin Black

5 on 4.5

2750lbs

MAXLYNE

RT3734

15″ x 6″

RTX 15×6 5-4.5 Black Machined

5 on 4.5

2750lbs

RT3736

16″ x 7″

RTX 16×7 8-6.5 Black Machined

8 on 6.5

4450lbs

AXIS / RTX

081990

15″ x 6″

RTX 15×6 6-5.5 Black Machined

6 on 5.5

2750lbs

MODULAR – SERIES 3

RT3818

15″ x 6″

Aluminium Rim Mod 15×6 0 Offset 3.19 2150lb Cap.

5 on 4.5

2150lbs

CD955660

15″ x 6″

Aluminium Rim Mod 15×6 0 Offset 4.25 2830lb Cap.

6 on 5.5

2830lbs

CD957760

16″ x 7″

Ceco Series 95 Modular Rim

6 on 5.5

3200lbs

CD957780

16″ x 7″

Aluminium Rim Mod 16×7 0 Offset 5.12 3750lb Cap.

6 on 5.5

3750lbs

SERIES 6

GB0656655

15″ x 6″

Aluminium Rim Series 6 15×6 0 Offset 4.25 2830lbs Cap.

6 on 5.5

2830Lbs

MITE

082528

13″ x 5″

Mite 13×5 0 Offset 2.95 1900lbs Cap. Satin Black

5 on 4.5

1660Lbs

082527

13″ x 5″

Mite 13×5 0 Offset 2.95 2150lbs Cap. Black Machined

5 on 4.5

1660Lbs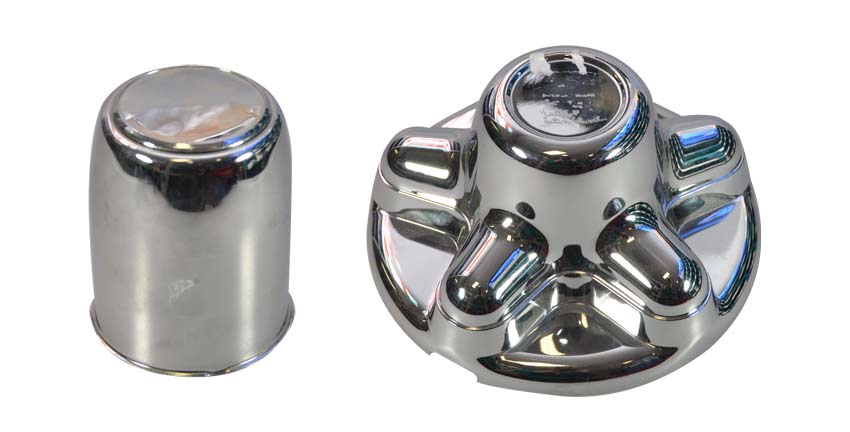 Center Caps
| | |
| --- | --- |
| PART NUMBER | DESCRIPTION |
| 295EZ | Chrome Center Cap 2.95′ Diameter with Plug |
| CD106EZC | Chrome Cap For 5 Bolt White & Chrome For Spoke Wheel w/ 3.195 Diameter Centre |
| CD120EZC | Closed End Chrome Cap For 5 Bolt w/ 3.30 Diameter Centre |
| CD104EZC | Chrome Cap For 6 Bolt White & Chrome For Spoke Wheel w/ 4.25′ Diameter |
| 490EZ-SS | Stainless Steel Center |
| PHQT545CHS-CA | Hub Cover, 5 on 4.5′, 5 on 4 1/2′ Bolt Pattern, Chrome |
| PHQT655CHN | Hub Cover, 6 Bolt Chrome Plated Plastic |
| PHQT765CHN | Hub Cover, 8 Bolt 13/16′ Lug |
| GB06-14CAP | Replacement Hub Cover 14″ |
| GB06-15CAP | Replacement Hub Cover 15″ |